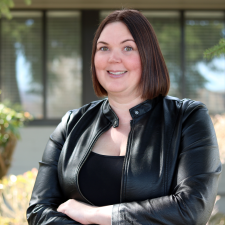 Stacey Hagkull
Senior Manager, Labour Relations - Teacher Portfolio
Division: Human Resources
Phone: ext 1260
Tell us about your career journey that lead to your current role? How long have you been with the district?
I'm brand new to the district and I've been here for two months. My career in HR started about 15 years ago when I worked as a Sr. Recruiter with the Calgary Board of Education. Those two years were amazing and as I worked my way through various HR roles, in mostly public sector settings, I always knew that I would love to get back to education in some form. I'm so glad that my re-entry into this sector is with Abby Schools. 
What is the best part about working for the Abbotsford School District? 
So far, the people that I work with are amazing. I have so much support from my leader, HR colleagues, and the principals have been incredible. Working toward a 'greater good' is fulfilling and being able to get out to the schools is really energizing.
What is something unique about you that you would like to share? Do you have any favorite activities or hobbies outside of the office?
I've been known to DIY my way around a few houses and I'm also a volunteer mediator and mentor with our local restorative justice organization.