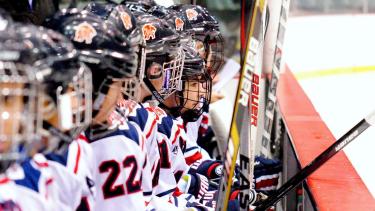 Yale Hockey Academy to transition to Independent Entity
February 8, 2023
During a January 2023 in-camera Board Meeting, the Abbotsford Board of Education entered into Agreement with the Yale Hockey Development Group to operate a hockey academy program in the school district beginning in July 2023. Deliberations around the future of the specialty hockey program have been taking place throughout much of 2022 as the Abbotsford School District investigated various options for operations.
The Yale Hockey Academy has served as a district program since the early 2000s. However, as of 2022, the sports academy program in Abbotsford was the only remaining high school hockey academy in the province to be operated exclusively by a school district. The operation of the sports academy within the boundaries of existing School Board policy and the School Act became increasingly difficult.
"Our Sports Academies allow middle and secondary students to combine their drive for athletics with learning in school, supporting a well-rounded educational experience," said Korky Neufeld, Chair for the Abbotsford Board of Education. "While the capacities of this program have grown beyond the boundaries of our Board Policy, we look forward to working with the Yale Hockey Development Group to ensure students in Abbotsford continue to have access to high-caliber sports and coaching in our community."
Communication with families leading up to the decision were shared with parents/guardians involved in the program. All hockey operations of the program are currently in the process of being formally transferred to this new group, led by Brad Bowen. Bowen currently serves as Academy Hockey Operations Coordinator and has been with the hockey program since 2006. He brings over 20 years of instructional experience and has been involved in scouting at the major junior level (Portland Winterhawks) and NHL level (New York Islanders).
Under the new banner, Bowen will continue to operate the hockey program in Abbotsford, ensuring students' educational programming remains within the Abbotsford School District.