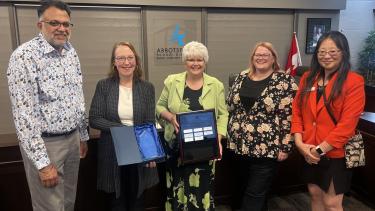 UFV Faculty of Science Receives 2022 Community Matters Award
June 28, 2022
The Abbotsford Board of Education awarded the University of the Fraser Valley's (UFV) Faculty of Science as the 2022 recipient of the Community Matters Award. Nominated by Jas Piche, an educator with the Abbotsford School District, the University of the Fraser Valley plays an integral role in organizing the Fraser Valley Regional Science Fair (FVRSF) for students, ensuring they have an opportunity to share and celebrate their work in an authentic, real-world environment.
"The support of students in our district by the University of the Fraser Valley is why we created our Community Matters Award," said Dr. Stan Petersen, Chair of the Abbotsford Board of Education. "UFV's volunteers have gone over and above to create environments for our students to learn, explore and thrive in the field of Science, technology, engineering, and mathematics (STEM)."
The first Fraser Valley Regional Science Fair (FVRSF) was held in the community in 1992. In the early 2000's the event was relocated to the UFV Abbotsford Campus. As the years progressed, UFV became more involved in the planning committee and evetually took on a leadership role with the event in 2016. Today, the FVRSF Committee consists of teachers, university professors, science professionals, and educators across the Fraser Valley who are passionate about STEM education. The FVRSF is open to students from 6 districts within the Fraser Valley, including the Abbotsford School District.
"The Faculty of Science is honoured to be this year's Community Matters Award recipient. UFV's Vision to be 'known as a gathering place for learners, leaders and seekers' reflects the spirit of the award, and our Mission of 'engaging learners, transforming lives, and building community' is what we aim to do," noted Dr. Lucy Lee, Dean for the Faculty of Science. "We believe in building community, beginning with our regional schools, and student participation in the annual Regional Science Fair has always been an eagerly awaited event. It is always nice to see the students grow and succeed in provincial and national events, and UFV will always be here to support our community."
The Board of Education established the annual award in 2015. The Community Matters Award is presented annually to organizations that have exceeded their community service mandate and have made a significant, deliberate contribution to Abbotsford School District students.