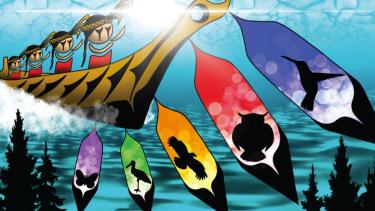 Telling our Story: The Journey of The Spirit of Leadership
November 22, 2022
By Brian Gross, Matsqui-Abbotsford Impact Society, and Nathan Ngieng, Abbotsford School District
This article is an excerpt from the Fall 2022 issue of InspirEd, the official journal of the British Columbia School Superintendent's Association.
The competency Growing the Capacity of Self and Others is focused on how leaders can demonstrate integrity and humility as they continually work to act selflessly in service of others. This article demonstrates that competency in action. As a non-profit organization, Matsqui Abbotsford Impact Society (Impact) has been supporting youth and adults (separately and increasingly cross generationally) with a vision to create "a community that recognizes and responds to substance use needs as a complex issue best addressed through conditions that allow for resiliency." Through counselling, youth advocacy, and street community support using trauma-informed approaches, resiliency factors, and motivational dialogue, Impact has been working to create communities of care for youth.
Since 2014, Impact, based in Abbotsford, British Columbia, has been experimenting with work informed by research on factors that allow people to be resilient (to bounce back and even learn and grow from challenges). The research paper by Brown, Jean Marie, & Beck (2010) summarizes these factors:
Caring, connected relationships in which there are opportunities to participate and contribute; and
Leading to developing higher expectations of how you'll perform when faced with challenges.
Impact's youth projects have been progressively more youth-led, starting with "youth-adult partnership," moving to "power-sharing," to "youth led, adult supported," and now with what the youth call a "youth-trusting" approach.
In Impact's first three-year Health Canada-funded project, not many schools were ready to get involved. But the project led to the region's first completely youth developed conferences, which staff from local school districts did attend. People left these conferences thinking differently about the roles young people can play in their communities. Some attending school staff moved into administrative roles, where their experiences with this work challenged them to try to do things differently.
During Impact's next project, the Abbotsford School District agreed to provide a building to host a much-evolved youth-led conference. This conference focused on topics not often discussed at any community conference, let alone one where youth were facilitating workshops based on their lived expertise of issues like domestic violence, self-harm, substance use-related harm reduction, borderline personality disorder, Indigenous healing modalities, gender fluidity, etc.
Since 2019, the Abbotsford School District's direction, accelerated by their participation in the Deeper Learning Dozen Project (Mehta et al., 2018), has been to commit to understanding and challenging ideas about how learning occurs in the classroom. Together, the readiness of the school district and the commitment and resolve of the youth involved in Impact has led to a positive, caring relationship, focused on creating opportunities for dialogue and change around schooling and the student experience.