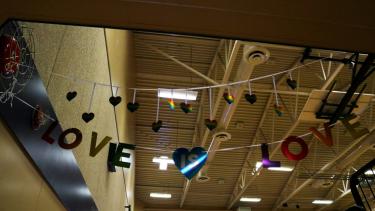 Students coordinate PRIDE celebrations at Eugene Reimer
July 11, 2022
Eugene Reimer Middle School's Inclusion Club hosted a Pride celebration for students and staff in June 2022. Students from middle schools across the district were provided with the opportunity to come together with like-minded individuals to socialize and create a community within Abbotsford to celebrate the Pride season.
Students gathered in the gymnasium for a full day of events and were welcomed by teachers and peers who helped organize the event. Each student had the opportunity to create a name tag indicating their preferred pronouns. Using the names and pronouns that people wish to be addressed by is a small step individuals can take to build a respectful, safer and more inclusive environment for all. There were various activities for students to get involved in, including arts and crafts, creating personalized pins, tie-dye clothing, beading and a photo booth station. Spread out around the gymnasium were pictures of public figures with a connection to the LGBTQ2+ community. Students could read the biographies of these individuals and learn about their history and personal stories.
Every young person, regardless of their sexual orientation or gender identity, deserves equal access to opportunities, and their safety should be protected. Eugene Reimer's Inclusion Club was created at the school as a space for students to feel welcome regardless of their diverse backgrounds, experiences, and characteristics. Alisha McPhee, a grade 7 teacher at the school, facilitated the event with the Inclusion Club. She wanted to create a space for students to be accepted for who they are.
This was the first year that Eugene Reimer Middle School held the event and plans to continue doing this in future years.