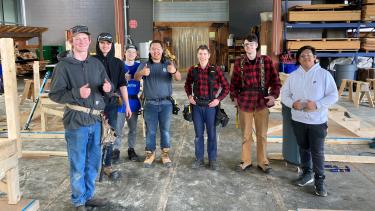 Students from Abbotsford Strike Gold in Skills Canada Competition
March 22, 2023
Over 75 students attended the Skills Canada Regional competition held at the UFV Chilliwack Trades Campus on March 2, 2023, as they showcased their skills and knowledge in the trades and technology sector. Three students from the Abbotsford School District won gold medals, advancing them to the Skills Canada Provincials set to take place in the spring. 
The competition featured students from various schools throughout the Fraser Valley demonstrating their expertise and knowledge across various trades and technology categories. Wyatt Rempel from ASIA Sumas Mountain (Automotive Technology), Bjorn Thoma from Abbotsford Senior Secondary (Carpentry), and Gabriella Neufeld from Yale Secondary (Electrical) earned gold medals in the competition. Students also had the opportunity to network with industry professionals and gain exposure to potential career paths. 
The gold medal winners move on to the Skills Canada Provincial Competition, which will be held on April 19, 2023, at Abbotsford Tradex and Exhibition Centre. This competition will bring together the top students across British Columbia to compete in their respective categories. 
The Skills Canada Regional Competition is an important event that highlights the importance of skilled trades and technology education. It allows students to explore career paths in these fields and develop their skills through hands-on learning experiences. 
About Skills Canada BC 
Skills Canada British Columbia (SCBC) is a leader in the development of innovative, hands-on learning experiences for youth in British Columbia. By creating conditions for young people to succeed in the trades and technologies, SCBC aspires to reposition skilled work as a preferred career pathway for youth in the province. SCBC offers programming to middle school (grades 6 – 10), secondary (grades 11 – 12), and post-secondary institutions designed to inspire, develop, and elevate youth in skilled trades and technology careers. Each year, SCBC helps thousands of students explore rewarding careers in the skilled trades and technology sectors. 
Media Contact: