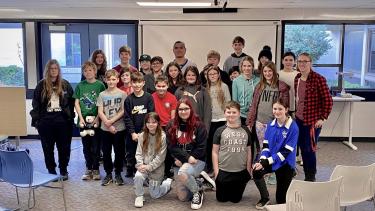 Abby Canucks Brady Keeper visits Chief Dan George Middle
January 13, 2023
Earlier this month, a group of Indigenous students at Chief Dan George Middle school had the unique opportunity to visit with Brady Keeper, a professional ice hockey player who serves as a defenseman with the Abbotsford Canucks. His visit provided students with an insight of what it can be like growing up as an Indigenous person entering the hockey world.
Keeper is from the Pimicikamak Cree Nation and the first player from Cross Lake, Manitoba to enter the NHL. Throughout his life he always enjoyed playing sports, but only became serious about hockey as a young teenager. With determination and commitment, Keeper has been able to play at a high level of hockey, most recently signing a 2-year contract with the Vancouver Canucks.
Indigenous students prepared 10 questions to ask the professional ice hockey player during his school visit. They were excited to be able to connect with and hear from someone who represents resiliency and dedication. Questions ranged from what it was like growing up as an Indigenous person to culture and identity, challenges, to overcoming obstacles. Many follow up questions were asked, with students eagerly wanting to get to know more about Keeper.
"It was great to have Brady come and visit our students." said Jamie Beck, Principal of Chief Dan George. "We really appreciated the stories he shared about his youth and his journey to becoming a pro hockey player. Our students were excited to be able to ask him so many questions and loved meeting another strong Indigenous role model."
After the question-and-answer portion of his visit, students lined up to get autographs and photos taken with Keeper. The students were creative in what they brought forward to be signed, with a few students having their shoes autographed. The visit was a great way for Indigenous students to learn and see firsthand what hard work and determination can get you.