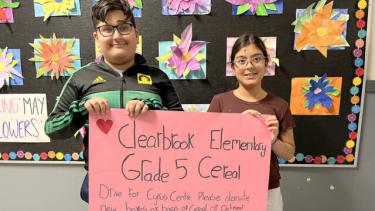 Abbotsford school kids hoping to collect 1,000 boxes of cereal for unhoused youth
May 9, 2023
Teresa Seo's class at Clearbrook elementary preparing for cereal drive at school and in community.
Breakfast is the most important meal of the day, and some Abbotsford students are ensuring everyone gets their share.
All four Grade 5 classes at Clearbrook elementary school are working hard to collect 1,000 boxes of cereal and oatmeal, which they'll donate to Abbotsford's Cyrus Centre, which provides housing for youth in the community.
The cereal drive begins on May 14 and runs through May 26, said one of the school's Grade 5 teachers, Teresa Seo. She said the students have been busy creating signs for the hallways, donation boxes for the classrooms, and practising a script for when they make appeals to the other classes of students.
They've also been busy doing some community outreach, asking businesses to give their support to the cause. And in the process of all this, Seo said, they are learning empathy and to give to the community. They're also being empowered by their actions to help those in need, she added.
They'll be set up at the Khalsa Diwan Sikh Gurdwara this Sunday, May 14 from 12 p.m. to 3 p.m., collecting cereal and oatmeal.